Clinical Uses of Nuclear Medicine
Nuclear medicine is used mainly to allow visualization of organs and regions within organs that cannot be seen on conventional x-ray images. Space occupying lesions (injury or abnormality), especially tumors, may stand out on nuclear medicine images. Generally, these lesions are seen as areas of reduced radioactivity (called a "coldspot"); however, in some instances, like bone scanning, areas of increased activity (called a "hotspot") represent disease or injury (pathology).
Bone scanning with nuclear medicine can be an important step in diagnosing and assessing treatment of various kinds of cancer, including breast cancer, because it can reveal whether the cancer has spread (metastasized) beyond its primary site and developed secondary cancer growths in the bones. On an x-ray, one might see that the bone is not broken, but on a bone scan, physicians can see metabolic changes caused by fine fractures, small tumors, or degenerative diseases such as arthritis.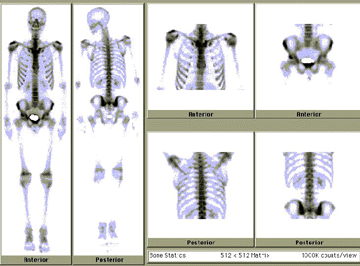 This nuclear medicine bone scan is normal and shows no pathology.
Nuclear medicine is also an important component in the diagnosis and treatment of heart disease. For example, cardiac angiography yields excellent images of the beating heart and the blood vessels (coronary arteries) that supply the heart muscle (myocardium) with blood. However, a stress thallium nuclear medicine study provides additional information by showing the function of the myocardium.