Imaginis.com Sponsoring Young Mother in Three-Day Breast Cancer Walk (dateline April 26, 2000)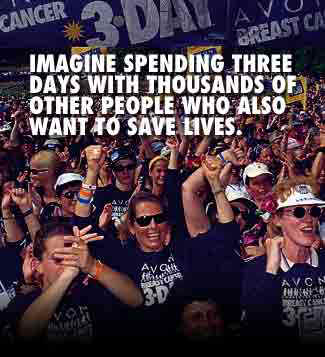 Imaginis.com is sponsoring Melissa Rua as she walks 60 miles to raise money for breast cancer research. The Avon Breast Cancer 3-Day event will be held in seven U.S. cities between May and October 2000. Participants agree to raise a minimum of $1800 each to help fund medical research and raise breast cancer awareness. Rua and nearly 2000 other volunteers are signed up for the first walk scheduled for May 5 to 7, 2000 from Frederick, Maryland to Washington, DC. Plans are also underway for three-day walks in Atlanta, Boston, Chicago, Los Angeles, New York, and San Francisco in the coming months.
Rua is a 31-year old mother who recently completed her PhD in science education from the University of North Carolina-Chapel Hill. She lives in Northern Virginia with her husband, Dan and her 22-month-old daughter, Delaney. "I heard about the walk from Kate, Dan's partner's wife," Rua told Imaginis.com. "Kate and I had both recently moved to the area and did not know each other very well, but [the walk] provided an opportunity to do something that would be beneficial for others while also providing me with a social outlet."
When Rua signed up for the 60-mile walk, the distance seemed daunting. However, Avon provides training walks to help participants prepare for the three-day event. "In addition to working out, Kate and I have done training walks together and with others over the past two months," said Rua. Rua is also currently training for a triathlon that she and her husband will participate in this summer.
"At the time I joined the walk, I had not stopped to think about the number of people I knew who had been diagnosed with breast cancer. After some thought and more awareness of the disease, I realize now that I have known several women who have struggled with this cancer," said Rua.
"These women were not close friends or family but people I had met through work or other acquaintances. I imagine that the same is probably true for many people. I realize now that [breast cancer] was and is always around me," said Rua.

More than 15,000 walkers and crew volunteers are expected to participate in the seven three-day walks. Avon provides full medical support for the walkers; medical doctors, nurses, chiropractic technicians, massage therapists, physical therapists, and motorcyclists also volunteer their services at each walk.
Avon Breast Cancer 3-Day Walks

City
Dates
Phone Contact
Atlanta

Boston

Chicago

Los Angeles

New York

San Francisco

Washington, DC

Sept. 22-24, 2000

June 2-4, 2000

June 16-18, 2000

Oct. 27-29, 2000

Oct. 13-15, 2000

July 28-30, 2000

May 5-7, 2000

404.257.5553

647.491.3329

773.525.2960

310.450.5015

212.290.2212

415.593.0488

202.466.7700
Men and women interested in volunteering as walkers or crew members for one of the six remaining three-day walks should visit the Avon Breast Cancer Crusade website for more information. Registration forms are also available for download on the Avon site. Avon is still looking for volunteer crew members (including health care professionals or motorcyclists with their own motorcycles) for the Washington, DC walk on May 5-7.
The Avon Breast Cancer 3-Day walks have raised more than $20 million net for breast cancer research since they began in October 1998.