Florida Legislators Approve Special Breast Cancer License Plate to Support Research (dateline May 16, 2002)
A special End Breast Cancer license plate will soon be available to Florida residents, be available to Florida residents, thanks to the efforts of the Florida Breast Cancer Coalition. The non-profit organization successful gathered 22,715 signatures from Florida residents willing to purchase the tag and raised the $60,000 required to apply for a specialty license plate. The plate, which will be available at the end of the year, will help fund research into breast cancer prevention, causes, and treatment.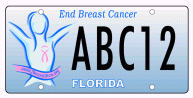 The new Florida End
Breast Cancer license plate
The license plate was formally approved by the Florida Senate and House this past March, and Governor Jeb Bush will sign the bill in a formal ceremony this May. "This license plate is important because it helps raise money for more research into causes and treatments of breast cancer," said breast cancer activist Staci Ehrenkrantz, who helped make the license plate realty.
The special End Breast Cancer license plate will cost $27 more than a regular Florida plate, and $25 of that cost will go directly to the Florida Breast Cancer Coalition Research Foundation, which will oversee a grant/peer review process to award funds to research programs throughout Florida. The plate will feature a woman figure on the left side of the plate wearing the pink ribbon symbolizing the fight against breast cancer and the words "End Breast Cancer" displayed at the top of the plate.
Staci Ehrenkrantz and her friend Debi Strochak worked closely with the Florida Breast Cancer Coalition to get the state of Florida to approve the special breast cancer license plate. Ehrenkrantz first got the idea of a breast cancer license plate while driving to work one morning. "I saw that the car in front of me had a Challenger license plate to commemorate the space shuttle. That's when it hit me, there should be a license plate to help raise money for breast cancer research," said Ehrenkrantz, whose mother had been diagnosed with breast cancer several years earlier. When Ehrenkrantz contacted her friend Strochak, who owned an automobile tag agency, she learned that Strochak had had the same idea three years earlier but had to put things on hold as she underwent breast cancer treatment.
The Florida Breast Cancer Coalition is a non-profit grassroots advocacy organization dedicated to the eradication of breast cancer. Their mission is ensure sufficient government and public funding for breast cancer research, quality health care for all without fear of discrimination, and an environment free of carcinogens. The organization is currently restructuring their website to include information about the breast cancer license plate as well as creating a special 800-number, 888-END-IT-NOW.
Additional Resources and References