Bicyclist Lance Armstrong Promotes Cycle of Hope Cancer Education Campaign (dateline July 24, 2001)
Editor's Note: Armstrong won his third Tour de France title on July 29, 2001, making him the first American and only the fifth man in the world to win three or more consecutive Tour de France championships.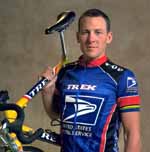 As Lance Armstrong enters the final week of the Tour de France bicycling competition, he continues to promote his Cycle of Hope cancer awareness campaign. The 29-year old Armstrong, who is currently defending his two Tour de France champion titles, is also a survivor of advanced testicular cancer. As spokesperson for Cycle of Hope, Armstrong encourages everyone to "know your cancer risks and get screened." Specifically, the goals of Cycle of Hope are to encourage early cancer detection, reduce fear associated with cancer, and encourage a team approach to cancer treatment.
According to Armstrong, too many people are diagnosed with cancers in late stages, when the chances of survival are significantly lower. "I ignored my symptoms partly because I was riding well…1996 was probably the best year of my profession up to that point," said Armstrong, while promoting Cycle of Hope. "As an athlete, and a stubborn one at that, I didn't want to know that I had a problem. I didn't want to go to the doctor. I guess what it boils down to is I didn't want a set-back…I had a fear of hearing the bad news."
Armstrong was diagnosed with testicular cancer in 1996 at age 25. He had experienced pain and swelling in his groin for five months before the diagnosis but did not seek medical attention. Upon further examination, physicians found a dozen golf-ball size tumors in his lungs and also detected cancer in his abdomen and brain. The cancer team estimated Armstrong's chances of survival to be around 50%.
"I was scared and confused," said Armstrong in a Cycle of Hope press release. "Then I decided to learn as much as I could about the illness and fight for my life." Armstrong endured three surgeries and an aggressive chemotherapy regimen. During that time, he continued to cycle, although he had lost much of his energy due to treatment. However, with perseverance and support from his family and friends, Armstrong was eventually able to overcome cancer and rebuild his strength. He won his first Tour de France championship in July 1999, and turned in a repeat performance the following summer. He is currently competing in the 2001 Tour de France, which ends on July 29.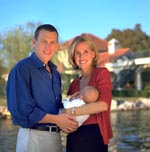 Armstrong hopes that his participation in the Tour de France will also help raise awareness for Cycle of Hope. "I am dedicated to the Cycle of Hope campaign," said Armstrong, whose wife, Kristin, gave birth to their first child in the Fall of 1999. "I want to help others break out of their cycle of misunderstanding and fear and empower themselves with knowledge," added Armstrong. The cyclist and his wife are expecting twin girls this December.
Cycle of Hope was co-founded by the Lance Armstrong Foundation and Bristol Myers-Squibb, the manufacturer of the chemotherapy drugs used by Armstrong during his cancer treatment. Cycle of Hope offers a free information packet on cancer, which includes an interactive "wheel" of information about common risk factors and symptoms of different types of cancer. The packet also provides information for newly diagnosed cancer patients to help them understand their diagnosis and learn about state-of-the-art treatment options. Personal comments from Armstrong accompany the factual information. The packet can be obtained by calling Cycle of Hope at 1.877.717.HOPE (4672) or by visiting http://www.cycleofhope.org/