Siemens - SONOLINE Ultrasound in Women's Health
Ultrasound is finding a growing role in the diagnosis of breast cancer. Breast ultrasound delivers an immediate impression of the underlying disease process, clearly delineating simple cysts (benign fluid pockets) from solid masses. With SieScape panoramic imaging, a record of the surrounding tissue improves diagnostic perspective and provides anatomic reference.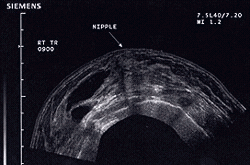 Panoramic "SieScape" ultrasound image of the breast showing the lateral predominance of multiple cysts (dark regions on left side of image) and providing a view of the nipple as anatomic landmark.
Physicians are using breast ultrasound on an increasing basis, for example to view the shape and borders of lesions, to aspirate cysts, to guide the biopsy of suspicious areas. Siemens SONOLINE Elegra has a unique "beam steering" feature that greatly facilitates biopsy of breast lesions such as cysts.
Prenatal ultrasound has become an almost automatic part of prenatal care (visits to the obstetrician). Ultrasound is routinely used by the obstetrician at 16 to 18 weeks to date the pregnancy and check on the development of the fetus. Siemens has developed a number of advanced techniques for imaging the prenatal baby including the panoramic SieScape imaging technique (below, middle), and the exciting three-dimensional 3-Scape imaging (below, right).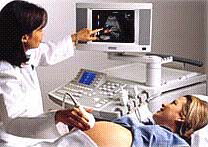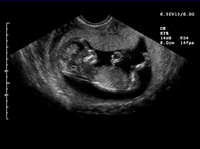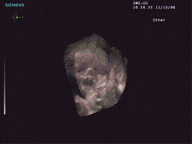 Ultrasound plays a very important role in diagnosing disease and cancers of the female pelvis and reproductive organs. For example, ovarian cancer is the fourth leading cause of cancer-related death (after breast cancer, lung cancer, and colon cancer) in women between the ages of 35 to 74.* If diagnosed and treated before the cancer spreads outside the ovary, the five-year survival rate is 95%. *A primary test for ovarian cancer is pelvic ultrasound. Siemens has developed a wide range of ultrasound systems and endovaginal probes to help diagnose ovarian and other gynecologic cancers.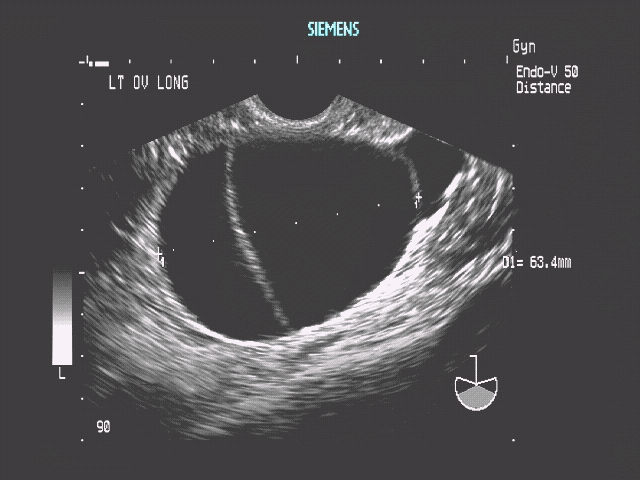 This ultrasound image shows an ovarian cyst (benign pocket of fluid).
Source: National Ovarian Cancer Coalition (NOCC).