MR Imaging: For Superstar Athletes and "Weekend Warriors"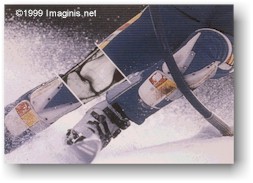 MR imaging (MRI) is available to everyone, from the superstars like Michael Jordan to everyday people who, for instance, run or play tennis a lot. Many sports related injuries are simply mild aggravations of the bones, muscles and joints. But if a part-time athlete or "weekend warrior" has a nagging or chronic pain, he or she should go see their doctor. Sometimes those pains which are seemingly not that severe, don't go away and portend more serious injuries, like cartilage loss in the knee, that will only worsen if not properly diagnosed and treated.
MR has become a great tool for helping athletes avoid surgery altogether, or to determine which form of treatment would be optimal. MR Imaging can assist the orthopedic surgeon's planning for bracing, surgery or rehabilitation.
Prior to the development of these new, powerful musculoskeletal MR techniques, open surgery or less-invasive arthroscopy was required to determine what was damaged. Now, surgeons can determine the damage non-invasively and at essentially no risk to the patient. If surgery is still required, MR images provide orthopedic surgeons an excellent road map to plan the surgical procedure.
There is hardly a time these days when a sports page article on a star athlete's injury does not feature the findings of the MR study. Countless athletes from Dallas Cowboys quarterback Troy Aikman to Olympic downhill skier Picabo Street have been patched back together by orthopedic surgeons after traumatic injuries. More often than not, diagnostic imaging and MR imaging have been a major part in the diagnosis and treatment of major-league athlete's orthopedic injuries, such as:
Roger Clemens' arm / baseball
Fred Couples' back and spine / golf
Christian Fitipaldi's splintered shin / race car driving
Bo Jackson's hip / baseball and football
Michael Jordan's shoulder / basketball
Jimmy Key's shoulder / football
Dan Marino's knees and ankles / football
Joe Montana's knees / football
Scottie Pippen's ankle / basketball
Jose Rijo's elbow / baseball
Monica Seles' knee and shoulder / tennis
Bruce Smith's knee / football
Picabo Street's knee / downhill snow skiing
Updated: November 2, 2007