Imaginis Medical Partners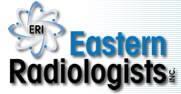 At Eastern Radiologists, Inc., we make it a priority to stay abreast of the ever changing face of medicine. We actively recruit physicians from premier training hospitals who bring a broad array of expertise to eastern North Carolina. What's more, our affiliation with the Brody School of Medicine serves as an outstanding source of continuing education and as an avenue to share our knowledge, experience and expertise with the brightest physicians of tomorrow.

The North Shore-Long Island Jewish Health System strives to improve the health of the communities it serves and is committed to providing the highest quality clinical care; educating the current and future generations of health care professionals; searching for new advances in medicine through the conduct of bio-medical research; promoting health education; and caring for the entire community regardless of the ability to pay.