Treating Osteoporosis
Miacalcin (generic name, calcitonin) is used to treat post-menopausal osteoporosis in women who have low bone mass but cannot take estrogen (hormone replacement therapy). The drug is usually recommended to women who been post-menopausal for at least five years. Miacalcin comes in the form of a nasal spray (not an inhaler) that enters the bloodstream quickly to help strengthen bone and prevent bone loss.
Side effects of Miacalcin may include:
Nasal symptoms (runny nose, crusting, nosebleed)
Back and/or joint pain
Headache
More information on Miacalcin, courtesy of Novartis.
Percutaneous vertebroplasty (PV) is a new treatment that involves injecting a special liquid cement into fractured vertebral sections. It is being performed at select centers across the U.S. PV is used to fill holes or fractures in the spinal column left from osteoporosis, a degenerative bone disease. PV helps rebuild the collapsed spine and relieves pain and pressure. In a recent study, 29 of 30 patients experienced significant pain relief immediately after the procedure and 80% of the patients reported lasting pain relief.
Before the procedure, patients are given a mild sedative. To perform the minimally invasive operation, a surgeon places a needle through the skin into the area of the spine needing treatment. X-ray fluoroscopy is used to help guide the needle. Once the needle is positioned properly, a special liquid cement (called polymethylmethacrylate) is injected into the spinal fracture. Once injected, the liquid cement takes approximately 20 minutes to harden. When it hardens, it becomes a permanent spinal reinforcement. In many cases, a second needle puncture is needed to fill the other side of the vertebra.
Possible side effects of PV include:
Bleeding
Another fracture
Pain or weakness
Infection
Paralysis
Learn more about percutaneous vertebroplasty.
In addition to the therapies outlined in this article, researchers are currently investigating a variety of other medicines to treat and prevent osteoporosis. These investigational methods include:
New forms of bisphosphonates
Sodium fluoride
Additional selective estrogen receptor modulators (similar to Evista)
Vitamin D metabolites
Several clinical trials are currently underway to investigate these new treatments. Patients with osteoporosis should ask their physicians about new methods to treat the disease.
Learn more about clinical trials.
Many physicians use bone densitometry to monitor patients with osteoporosis. While effects of treatments may begin soon after therapy is begun, evidence of a response to hormone replacement therapy or other drug treatments may not be accurately detected using DEXA bone densitometry right away. For this reason, osteoporosis patients usually have bone scans at one to two year intervals to monitor treatment responses.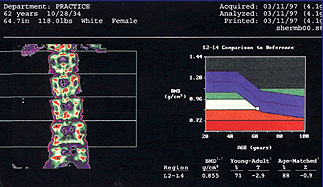 Patients at high risk of rapid bone loss (for example, patients on steroid therapy) may receive bone densitometry more frequently. Natural bone loss (not drug related) almost never occurs so rapidly as to require densitometry tests more frequently than at one to two year intervals.
In addition to treatment with vitamins and drugs, women who have osteoporosis may need to make lifestyle changes. The National Osteoporosis Foundation recommends the following guidelines to avoid bone fractures:
Wear sturdy, low-heeled, soft-soled shoes; avoid floppy slippers and sandals.
Ask your doctor whether any medications you are taking can cause dizziness, light-headedness, or loss of balance. If so, ask how these effects can be minimized.
Minimize clutter throughout the house.
Secure all rugs; avoid using small throw rugs that can slip and slide.
Remove all loose wires and electrical cords that can cause tripping.
Make sure treads and handrails are installed on staircases and remain secure.
Keep halls, stairs, and entries well lighted.
Use nightlights in the bedroom and bath.
In the bathroom, use grab bars and non-skid tape in the shower or tub.
In the kitchen, use nonskid rubber mats near the sink and stove.
Avoid using slippery waxes; watch out for wet floors; clean up spills immediately.
When driving, wear seat belts and adjust seat properly.
Specific information on minimizing the risk of hip fractures.