Spiral CT and Helical CT
In addition to creating fantastic images of internal anatomy, these new 3D reconstruction techniques enable a number non-invasive "virtual endoscopy" procedures to be performed. Endoscopy involves the use of an endoscope to see inside organs of the body such as the colon or bronchi. Virtual endoscopy allows physicians to see the inside of these same structures, without the use of an invasive endoscope. Some virtual endoscopy procedures can be performed with CT that could not be acquired with conventional endoscopy, such as the image below of a wire stent (wire support) inside the abdominal aorta.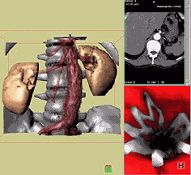 This collage shows an abdominal aortic stent (metal wire support): outer view (left), inner view (lower right) and original axial CT image (upper right)
New "multi-slice" spiral CT scanners are now being developed that can collect up to four slices of data during spiral CT mode and some rotate at speeds up to 120 rpm (rotations per minute). These systems can collect up to eight times as much data versus previous state-of-the-art spiral CT systems that rotate at 60 rpm and only collect one slice of data at a time. Multi-slice CT scanning will allow non-invasive imaging and diagnosis of wider range of conditions in less time and with greater patient comfort.
The combination of multi-slice CT and new 3D reconstruction promises to allow physicians to see even more than ever before. Multi-slice CT systems are at "the cutting edge" in terms of speed, patient comfort, and resolution. CT exams are now quicker and more patient friendly than ever before. As CT scan times have gotten faster, more anatomy can be scanned in less time. Faster scanning helps to eliminate artifacts from patient motion such as breathing or peristalsis.
The latest multi-slice CT systems can collect up to 4 slices of data in 250 ms to 350 ms and reconstruct a 512 x 512-matrix image from millions of data points in less than a second. An entire chest (forty 8 mm slices) can be scanned in five to ten seconds using the most advanced multi-slice CT system. An CT angiography images of the "peripheral runs-off" (leg vessels from the pelvis to the toes) are now being acquired for the first time with multi-slice CT. Finally, multi-slice CT with very short scan times is opening the door for CT to become more important in the management of heart disease and stroke.