CT Image Guidance of Minimally Invasive Procedures and Micro-therapy
Since the beginning of computed tomography, radiologists have used CAT/CT to guide simple interventional procedures such as tissue biopsy. Conventional CT guidance of biopsy and other simple procedures is well established. However, conventional CT can be painstakingly slow since it often requires a new image to be acquired each time the doctor advances the needle or surgical instrument in order to verify the updated position. In many cases the radiologist repeatedly leaves the scan room each time a new image is acquired, extending the length of the procedure.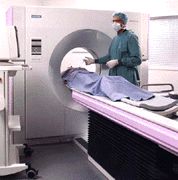 The radiologist performs a CT guided biopsy using "Fluoro CT"
New fluoroscopic CT procedures allow radiologists to better guide tissue biopsy and allows the guidance of minimally invasive surgery or micro-therapy. Conventional CT can only acquires one image at a time, like a pocket camera or simple radiograph. Fluoro CT is more like a video camera (or x-ray fluoroscope) and allows acquisition and immediate display of up to 9 images per second. Thus Fluoro CT allows the physician to continuously monitor the trajectory of the needle or surgical instrument as it is inserted, eliminating the slow slice by slice process and allowing a significant streamlining of CT guided interventional procedures.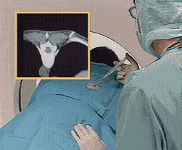 The radiologist delivers a therapeutic agent into the thoracic vertebrae under fluoro CT guidance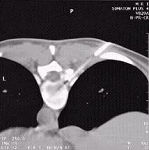 This fluoro CT image is used to guide needle placement. A therapeutic agent is then injected into the thoracic vertebrae to alleviate pain
Many open surgical procedures can now be replaced with minimally invasive procedures under CT guidance. For example, Fluoro CT can be used to guide micro therapy to repair prolapsed or burst disks in the spinal canal without surgery. Until recently, the repair of a "bad disk" was primarily an open surgical procedure.
Fluoro CT imaging is now used to guide a number of minimally invasive, micro-therapy procedures:
Drainage of fluid collections such as cysts, abscesses (pus), lymphoceles (lymph fluid), bilioma (bile), hematomas (blood), for example, to remove fluid from an infection or wound
Diagnostic biopsy to remove a tissue sample for pathologic or cytologic lab testing
Pain therapy, for example, the injection of therapeutic agents into a spinal disk space to alleviate pain (see above images)
Minimally invasive operation, for example, cyst removal or ablation (cutting away) of tumors (such as brain tumors)
Dynamic study of knee or elbow motion, swallowing or study of the larynx
CT arthrogram: injection of contrast into joint space for easier diagnosis of injury
Guidance of embolization to stop bleeding, for example, in liver and spleen trauma
Monitor difficult endoscope placement, for example in the gastrointestinal tract