How to Find Out More About the STAR Trial: Additional Information and References
Women who wish to receive information about the STAR trial can contact the NSABP by postal mail (NSABP, Box 21, Pittsburgh, PA 15261); by fax (412.330.4660), or at the NSABP website (www.nsabp.pitt.edu). The September 28, 1998 NSABP press release announcing the STAR trial (referenced for this document) can be found at http://www.nsabp.pitt.edu/P2_Sites.asp. This press release also lists the centers that are participating in the STAR trial.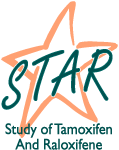 NSABP Operations Center
East Commons Professional Building
Four Allegheny Center - 5th Floor
Pittsburgh, PA 15212-5234
Phone: 412.330.4600
The National Cancer Institute's May 25, 1999 press release announcing the opening of the STAR trial is available online along with information and answers to frequent questions about the trial, http://cancertrials.nci.nih.gov/NCI_CANCER_TRIALS/zones/TrialInfo/News/star/starpr.asp.
The Susan G. Koman breastcancerinfo.com website contains a press release about the STAR trial and Komen Foundation's efforts to recruit women for the trial, http://www.breastcancerinfo.com/news/html/052599_3.asp.
The U.S. Health and Human Services (HHS) October 21, 1998 press release that includes announcement of the STAR trial can be found online at http://www.hhs.gov/news/press/1998pres/981021a.asp
The ACS Breast Cancer Network provides detailed information on the original Breast Cancer Prevention Trial (BCPT) with Tamoxifen at http://www2.cancer.org/bcn/info/trial.asp
A new ASCO report "American Society of Clinical Oncology Technology Assessment on Breast Cancer Risk Reduction Strategies: Tamoxifen and Raloxifene" can be found online at http://www.asco.org/prof/pp/html/guide/brisk/f_brisk.asp
The National Cancer Institute (NCI) maintains a Cancer Trials website that includes results from the Breast Cancer Prevention Trial and two useful documents :
The U.S. Food and Drug Administration's (FDA) October 29, 1998 Press Release "Tamoxifen Approved for Reducing Breast Cancer Incidence" can be found at the FDA website at http://www.fda.gov/bbs/topics/NEWS/NEW00662.asp
AstraZeneca Pharmaceuticals' October 29, 1998 press release announcing the FDA approval of tamoxifen for reducing the incidence of breast cancer in women at high risk can be found online at www.nolvadex.com/pr2.cfm.
Eli Lilly and Company maintains a website about raloxifene (Evista) at www.evista.com. However, the use of Evista (raloxifene) to prevent or treat breast cancer is not described, only the use of Evista for treating osteoporosis is discussed.
MD Anderson Cancer Center maintains a website "How can I decide if a clinical trial
is right for me?" at http://www.mdanderson.org/research/decide.asp
Updated: September 11, 2007