U.S. Postal Service Approves Email Greeting Card Version of Breast Cancer Research Stamp (dateline October 10, 2000)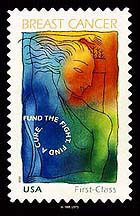 The United States Postal Service (USPS) has authorized BlueMountain Arts, an online greeting card company, to use the Breast Cancer Research stamp on an email greeting card. The electronic card features an illustration of the Breast Cancer Research Stamp and its "Fund the Fight, Find a Cure" logo. The card may be sent to others via email to help increase breast cancer awareness or serve as a reminder for women to perform monthly breast self- exams beginning at age 20 and receive annual screening mammograms once they reach 40 years of age.
"We are delighted to make this available," said USPS Stamp Development officer Kelly Spinks, in a USPS/BlueMountain Arts/Hope Springs Press press release. "Breast cancer stamp sales have raised more than $14 million for research over the past two years. We hope this email card will increase both public awareness and additional stamp sales."
The Breast Cancer Research stamp electronic greeting card can be sent by visiting the BlueMountain Arts website at www.bluemountain.com/eng3/bcaware/BCAstamp.html and entering the email address of the desired recipient. Senders may also enter a brief message or use the sample message, "Remember to give yourself a breast exam once every month, and a mammogram once a year." (Annual screening mammograms are recommended for all women beginning at age 40).
The electronic greeting card is free to send. Breast Cancer Research stamps may be purchased online on the USPS website or at post offices across the United States. The Breast Cancer Research stamp sells for $0.40 instead of the normal $0.33 for a first class stamp. The additional $0.07 goes to the National Institutes of Health and the U.S. Defense Department to help fund breast cancer research. A "normal" book of 20 first class stamps costs $6.60. A book of 20 Breast Cancer Research stamps costs $8.00.
"This inspirational stamp should be everywhere," said Robin Lind, of Hope Springs Press, in the press release. Hope Springs Press is an eBook Publisher who has published titles such as First Aid Yourself, Essential Breast Cancer Websites by Betsy Dance. "One great advantage of online electronic cards is that they can be delivered on a specific date [which is] especially helpful for annual mammogram reminders."
The Breast Cancer Research stamp's introduction in July 1998 was a direct result of the efforts of Dr. Ernie Bodai, MD, a Breast Health Specialist who has treated more than 2000 women with breast cancer over the last 15 years. Dr. Bodai travels the United States addressing groups of women about breast cancer.
The stamp itself was designed by Ethel Kessler, a breast cancer survivor in Bethesda, Maryland and was illustrated by Whitney Sherman of Baltimore, Maryland. The stamp portrays the Roman Goddess, Diana, protector of women in Roman Mythology. Diana is reaching for a quiver, symbolizing that she will protect women from harm. Diana's arm is raised in the same position a woman would raise her arm during mammography and breast self-examination. In the place of her right breast is the circular "Fund the Fight, Find the Cure" logo.
It is estimated that over 182,000 American women will be diagnosed with breast cancer in 2000 and more than 40,000 American women will die from the disease this year. The earlier breast cancer is detected, the greater the chances for survival.
Guidelines for the early detection of breast cancer:
All women between 20 and 39 years of age should practice monthly breast self-exams and have a physician performed clinical breast exam at least every three years.
All women 40 years of age and older should have annual screening mammograms, practice monthly breast self-exams, and have yearly clinical breast exams.