Sale of Breast Cancer Stamp Extended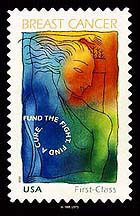 One day before the breast cancer research semi-postal stamp was scheduled to be taken off the market, President Clinton signed the Semi-Postal Authorization Act, extending the sale of the breast cancer stamp for two more years. The breast cancer research stamp was first introduced in July 1998, and as of July 16, 2000, 214 million stamps have been sold, raising over $15.1 million for breast cancer research.
"We are now looking forward over the next two years to making the stamp an astronomical success," said Betsy Mullen, the founder and president of the Women's Information Network Against Breast Cancer (WINABC) and an avid supporter of the Breast Cancer Research stamp, in a WINABC statement. Mullen, a breast cancer survivor, was a featured speaker at a special White House ceremony that officially introduced the breast cancer research stamp back in August 1998.
The 40-cent breast cancer research stamp is the first stamp in U.S. history to have its net proceeds (seven cents) above the cost of the stamp (33 cents) earmarked for breast cancer research. The additional seven cents from each stamp goes to the National Institutes of Health (70%) and the Defense Department (30%).
"People throughout the United States again have the opportunity to give a gift of life and hope every time they send a bill, a card, or a letter in the mail by purchasing and using the historic stamp designed to save lives," said Mullen in a WINABC statement. "These stamps also make wonderful gifts on special holidays and occasions like Mother's Day and birthdays. A portion of the cost is tax deductible," said Mullen.
The stamp's introduction was a direct result of the efforts of Ernie Bodai, MD, a breast health specialist who has treated more than 2000 women with breast cancer over the last 15 years. Dr. Bodai travels across the U.S. addressing groups of women about breast cancer. Mullen and fellow WINABC board member David Goodman helped Dr. Bodai gain legislative support for the breast cancer research stamp. Goodman lost his wife to breast cancer in 1997.
The stamp itself was designed by Ethel Kessler, a breast cancer survivor in Bethesda, Maryland and was illustrated by Whitney Sherman of Baltimore, Maryland. The stamp portrays the Roman Goddess, Diana, protector of women in Roman Mythology. In the illustration, Diana is reaching for a quiver, symbolizing that she will protect women from harm. Diana's arm is raised in the same position a woman would raise her arm during mammography and breast self-examination. In the place of her right breast is the circular "Fund the Fight, Find the Cure" logo.
Mullen and others hope the extended sale of the breast cancer research stamp over the next two years will help increase breast cancer research and raise awareness about the disease. The U.S. Postal Service also sells a standard 33-cent first-class stamp to promote prostate cancer awareness.