Mothers Need Help From Physicians On Telling Children About Breast Cancer Diagnosis (dateline August 28, 2000)
Dealing with a diagnosis of breast cancer can be emotionally difficult, and many women find it tough to discuss the topic with their children. While physicians generally keep women well-informed of their treatment options and other aspects of breast cancer, a new study shows that women need more help from physicians and healthcare professionals when it comes to discussing their breast cancer diagnosis with their children.
British researcher Jacqueline Barnes, a senior lecturer in psychology, and her colleagues interviewed 32 women with Stage I and Stage II breast cancer with a total of 56 school-aged children (ages 3 to 18). The average age of the women in the study was 43. "Women were most likely to begin talking to their children after their diagnosis had been confirmed by biopsy, but a minority waited until after surgery or said nothing at all," the researchers wrote in their study report.
breast cancer diagnostic process
(often, as soon as they discovered a lump), only a few women told their children at that time. The women cited several reasons for needing to withhold information from their children. "I think, I'm not just talking about children. I'm talking about anyone, you mention cancer to anybody and you're dead in front of them," said a mother of an eight-year-old child. "I thought she would think after the mastectomy that I'm someone different or visualize something really horrific. That's what made me hold back," said a mother of a 10-year-old child. Other women were worried about disrupting their family life. "I was thinking I don't want her to be worried over Christmas. I don't want this Christmas to be any different [from] all the other lovely Christmases we've had," said the mother of a 16-year-old child. The following table outlines the reasons women in the study gave for either telling or not telling their children about their breast cancer diagnosis:
Reasons For Telling Children
Reasons For Not Telling Children

Belief in communicating
Desire to keep children's trust
Communication expected to alleviate children's distress

To avoid facing questions of cancer or death
To prevent children's distress
Do not expect children to understand
To preserve special family times
While the women in the study acknowledged the difficulty of talking to their children about breast cancer, many felt that is was an important part of the coping process. "We needed to be able to talk about how we felt about everything that had happened," said a mother of a 10-year-old child and 12-year-old child. A mother of a 13 year-old and 15-year-old child said, "it is probably better to tell them straight away than leave it for a long delay. If you don't say anything it's worse for kids, especially as I was edgy. They can sense that something is wrong."
Education on child development and age appropriate strategies
SPACE p the for consideration and hospital in mothers their visiting children>Space and consideration for children visiting their mothers in the hospital
Names of books, published literature, and online information on telling children about a cancer diagnosis (such as Michael's Mommy Has Breast Cancer by Lisa Torrey)
Support groups and/or counseling for children of a parent with cancer
Many of the women would have liked to have a meeting as parents or as a whole family with a health professional concerning their breast cancer diagnosis as well as advice from physicians on ways to break the news of a cancer diagnosis to their children. Specifically, women would have liked to have information on the most appropriate language to use with children when discussing breast cancer.
According to the researchers, patients should receive support and acknowledgment from physicians that they are part of a family and that their family members are influenced by their illness and treatment. Even if women choose not to tell their children about their breast cancer diagnosis, the researchers believe they will still benefit from discussing this aspect of their lives with their physician.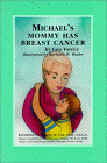 http://www.bmj.com/cgi/content/full/321/7259/479
· The American Cancer Society provides advice on telling friends and relatives about a breast cancer diagnosis. Please visit
http://www3.cancer.org/cancerinfo/sitecenter.asp?ct=1&ctid=7&scp=7.1.1.100
&scs=2&scss=17&scdoc=11695&pnt=1&language=english
or call the American Cancer Society at 1.800.ACS.2345 for more information. · Michael's Mommy Has Breast Cancer by Lisa Torrey helps children understand and accept a breast cancer diagnosis in the family.
Click here
to learn more about this book. Please visit the
Coping and Survival Section
Imaginis.com Breast Health Bookstore for additional resources.