Florida May Soon Offer Breast Cancer License Plate to Help Fund Research (dateline May 4, 2001)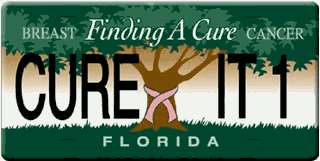 Breast cancer activists Staci Ehrenkrantz and Debi Strochak are working with the Florida Breast Cancer Coalition (FBCC) to get the state of Florida to issue a special breast cancer license plate. The license plate would help create breast cancer awareness and fund research. However, before the plate can become a reality, the women must collect 15,000 surveys from Florida residents who are willing to purchase the tag and raise $60,000 for the state application fee. To help meet these requirements, a website has been created for Florida residents to fill out an online, non-obligation survey to show their support of the breast cancer license plate: http://www.breastcancertag.org
If enough surveys are completed and funds are raised, the license plate is likely to become available at Florida automobile agencies by late 2002. The tag would cost Florida residents $25 and all of the proceeds from the sale would go to the Florida Breast Cancer Coalition (FBCC), a nonprofit organization that ensures government funding for breast cancer research.
Ehrenkrantz first got the idea of a breast cancer license plate while driving to work one morning last November. "I saw that the car in front of me had a Challenger license plate to commemorate the space shuttle. That's when it hit me, there should be a license plate to help raise money for breast cancer research," said Ehrenkrantz, whose mother had been diagnosed with breast cancer several years earlier.
When Ehrenkrantz contacted her friend Strochak who owned an automobile tag agency, she learned that Strochak had had the same idea three years earlier but had to put things on hold as she underwent breast cancer treatment. Now that Strochak has finished treatment, she and Ehrenkrantz have been working tirelessly with the FBCC and other breast cancer activists to collect surveys and raise money for the license plate application fee.
"This license plate is important because it helps raise money for more research into causes and treatments of breast cancer," said Ehrenkrantz. Ehrenkrantz encourages all Florida residents to take a few moments and fill out the online survey. "There is no obligation and every survey that is completed brings us closer to making the Florida breast cancer license plate a reality."
Florida residents may complete the survey about the breast cancer license plate by visiting http://www.breastcancertag.org/
Donations to the Florida Breast Cancer Coalition to help with the Florida state application fee for the breast cancer license plate can be made by to: 1201 Brickell Ave., Suite 200, Miami, FL 33131 (specify "breast cancer auto tag"). To reach the FBCC, please call 1.877.644.FBCC (3222) or visit http://www.fbccoalition.org/