FDA Approves Aware Breast Self-Examination Pad (dateline May 9, 2000)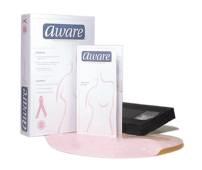 The U.S. Food and Drug Administration (FDA) has recently approved the Aware Breast Self-Examination Pad to help increase a woman's confidence when she performs monthly breast self-exams. The pad consists of two ten-inch plastic sheets with a silicone lubricant sealed inside. During clinical trials, the Aware Pad increased a woman's sense of touch by reducing friction between her fingers and her breast. Susan Nathanson, PhD, Executive Director of the Y-Me National Breast Cancer Organization hopes that products such as the Aware Pad will encourage more women to perform monthly breast self-exams. It is estimated that only 20% of women check their breasts for abnormalities on a regular basis.
According to Benjamin Goldman, MD of the North Shore University Hospital, the majority of palpable lumps (those that can be felt) are discovered by women or their spouses. Breast self-exams, clinical breast exams, and mammograms help detect breast cancer early when the chances for a complete cure are the greatest. The American Cancer Society recommends that women begin practicing monthly breast self-exams at age 20. Women should continue practicing breast self-exams while they are pregnant and breast-feeding.
The Aware Breast Self-Examination Pad is reusable and guaranteed for the life of the product. The pad also contains a hole near the top so that it may be hung in the bathroom and an opaque bag if women prefer to tuck it in a lingerie drawer. Each pad comes with a five-minute instructional video that demonstrates how to use the pad, written instructions with illustrations, and a list of breast cancer resource organizations.
The Aware Pad can be purchased by calling toll-free 877.9.AWARE.1 (877.929.2731) or visiting the Aware website at http://awarebse.com/ Five percent of each sale will go to a specific health organization (such as the Susan G. Komen Foundation, the National Alliance of Breast Cancer Organizations, or Y-ME) if the purchaser mentions the organization when placing his or her order or fills out the referral form on the Aware website.
To help detect breast cancer early, the American Cancer Society recommends the following:
Starting at age 20, women should practice monthly breast self-exams
Women between the ages of 20 and 39 should receive a physician-performed clinical breast exam at least every three years

Starting at age 40, women should receive yearly mammograms, yearly clinical breast exams, and practice monthly breast self-exams
Women at high risk of breast cancer, such as those with a strong family history of breast cancer or those who test positive for BRCA gene mutations should ask their physicians about beginning annual mammograms before age 40, as early as age 25 in some cases. Click here to learn more about beginning mammograms before age 40 to help detect breast cancer.