Doctor With Breast Cancer Will Be Air-Lifted From South Pole (dateline October 6, 1999)

Two LC-130 Air National Guard cargo planes equipped with ski landing gear left Scotia, New York on Wednesday to rescue Dr. Jerri Nielsen, a medical doctor on the United States Amundsen-Scott South Pole Research Station in Antarctica who has breast cancer. Forty-one scientists (ten women, thirty-one men), including Dr. Nielsen, have been snowed in at the South Pole Station during Antarctica's severe nine-month winter which lasts from February to October (picture courtesy www.spole.gov).
Dr. Nielsen first discovered a lump in her breast in June after a breast self-examination (BSE). In July, an Air Force plane air-dropped an ultrasound machine, digital microscope, medicines, and video-conferencing equipment that Dr. Nielsen has used to consult with doctors in the United States. The ultrasound system was damaged on impact, but Dr. Nielsen was able to diagnose a malignant tumor in her breast using the other instruments and assistance from doctors in the US.
Recently, Dr. Nielsen performed a fine-needle biopsy on herself and prepared specimen slides for remote digital microscopy examination via video conference by physicians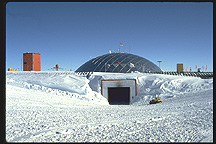 in the United States. Apparently, since the lump was palpable, Dr. Nielsen or one of her colleagues was able to accurately sample the lesion without ultrasound guidance. Dr. Nielsen is currently giving herself oral chemotherapy by air-dropped medication and is experiencing nausea and hair loss.
The two American National Guard planes on their way to Antarctica are expected to crisscross much of the globe this week, stopping first in California and Hawaii. After refueling, the crew will fly across the Pacific to Pago Pago in the American Samoa and then to Christchurch, New Zealand. They are scheduled to arrive at the McMurdo Station in Antarctica on or around October 12 and await conditions favorable to continue the remaining 800 miles to the South Pole. The National Science Foundation asked the 109th Airlift Wing of the New York Air National Guard to execute the mission because they are the only organization able to fly ski-equipped LC-130s (the only aircraft capable of landing at the South Pole).
Normally, conditions do not become safe enough to land airplanes at the South Pole until the end of October. In fact, the South Pole skyway does not re-open until around October 25th. Because of the severity of Dr. Nielsen's condition, the National Guard is attempting this emergency medical mission. Since temperatures will be close to one hundred degrees (Fahrenheit) below zero, the National Guard plans to keep engines running after they land. Ideally, Dr. Nielsen will be ready to board the aircraft so the plane may take off quickly. Temperatures lower than fifty degrees below zero may cause hydraulic fluids to freeze up, preventing the planes from taking off the ground safely. The National Guard also plans to drop off a replacement doctor.
Dr. Nielsen of Ohio is a forty-seven year old divorced mother of three teenagers. She underwent an extensive physical examination last December 1998 before leaving for Antarctica. No lump was apparent from the mammogram taken then, according to the National Science Foundation.
This is not the first time women have been evacuated from Antarctica because of breast lumps. Ten years ago, the Australian Mawson station's cook had to be rescued by Russian Mikhail Somov, who sailed through dangerous weather to get close enough to send up a helicopter. The lump turned out to be cancerous.
This article references reports from CBS News Online available at http://www.cbs.com/flat/story_191298.asp and Reuters' report on Excite News available at http://news.excite.com/news/r/991.
Visit the United States Amundsen-Scott South Pole Research Station at http://www.spole.gov.