Cross-Stitcher Supports Breast Cancer Research, Patterns Available to Public (dateline April 19, 2000)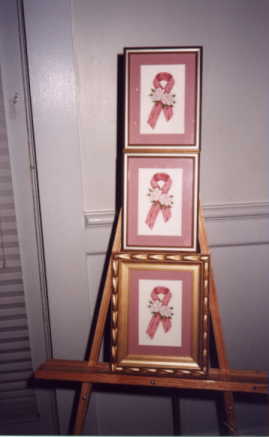 Cross-stitch expert Elizabeth Murray of Pembroke Pines, Florida helped lift the spirits of breast cancer patients and supported awareness and research by collecting, stitching, and distributing delicate pink ribbons. Murray attended the Longaberger Breast Cancer Research and Education Luncheon in Margate, Florida last December where she distributed pink ribbon cross-stitches to breast cancer survivors. The cross-stitched ribbons were sewn by Murray and 65 volunteers who heard about Murray's project over the Internet. Murray also distributed the pink ribbons to breast cancer patients at the Women in Cancer Treatment Center in Fort Lauderdale, Florida.
Murray, a 37-year-old mother of two, stitched the pink ribbons at night after her children had gone to bed. Initially, she asked a small group of cross-stitching friends over the Internet to help stitch the patterns. Through word of mouth and with the help of the Internet, 65 people from around the world volunteered to help support the Pink Ribbon Project.
Murray collected and framed some of the pink ribbons and took them to the annual Longaberger Luncheon, which raises money for the American Cancer Society. The luncheon's organizer, Glory Tharp, was touched by the pink ribbons and the volunteers' dedication to supporting breast cancer awareness. At the luncheon, women practiced how to correctly perform breast self-exams using breast form models.
Support Breast Cancer Awareness by Cross-Stitching
Cross-stitch experts and novices can help support breast cancer awareness by stitching pink ribbons (shown in photo). Pink ribbon patterns may be ordered online from Lorrac Designs, Inc . The cost of the pattern is $2.25 plus $1.00 shipping and handling, and 25 cents from each purchase goes to the Susan G. Komen Foundation to support breast cancer awareness and research.
Cross Stitch Pals invites cross-stitchers to donate ornaments for their raffle at the November 3, 2000 Cross Stitch Pals Convention in Myrtle Beach, South Carolina. The ornaments may be any form of cross-stitching, and all money raised from the raffle will go to the American Cancer Society for breast cancer research. For more information, visit the Cross Stitch Pals website at http://www.crossstitchpals.com/