Climb Against The Odds: Breast Cancer Survivors Climb Mount McKinley (dateline November 22, 1999)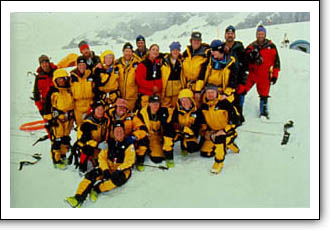 Photo courtesy of the Breast Cancer Research Fund (http://www.breastcancerfund.org)
An award-winning documentary, "Climb Against the Odds: A Story of Courage and Survival as Twelve Women Fight Breast Cancer at 20,000 Feet," recently premiered on the Public Broadcasting System (PBS), documenting the 1998 expedition of twelve women (including five cancer survivors) who attempted to climb Alaska's Mount McKinley. The climb was sponsored by the Breast Cancer Fund, a non-profit organization that supports breast cancer research, education, and support to raise awareness. To date, proceeds from the climb, the documentary, and the newly released soundtrack featuring Celine Dion and others have reached $300,000.
The twelve climbers dedicated their expedition to Marcy Ely Wilson, a breast cancer survivor who trained for the McKinley climb for two years. In 1991, Marcy had a modified radical mastectomy and was treated with the drug tamoxifen for five years. In 1996, she participated in the Napa Valley Marathon in California to mark her five-year anniversary of breast cancer. Shortly before the McKinley climb, Marcy was diagnosed with recurrent metastatic breast cancer (cancer that has spread past the breast and underarm lymph nodes). Though her treatment prevented her from making the expedition, Marcy was able to join her team on the glacier for an emotional bon voyage. "McKinley's a walk in the park," Marcy told the team. "Cancer's the big mountain." Sadly, Marcy died on March 21, 1999.
"In 1995, the Breast Cancer Fund sponsored [its first expedition] to Mount Aconcagua in Argentina-the highest peak in South America-in response to a request from Laura Evans, a would-be mountain climber who was diagnosed with breast cancer and [became] determined to climb mountains," Jeanne Rizzo, Public Relations Coordinator of Climb Against the Odds, told Imaginis.net. "The metaphor was obvious: one step at a time with the support of friends, loved ones, and a skilled guiding team of seventeen women." Laura was diagnosed with Stage III breast cancer at age forty. After undergoing lumpectomy, chemotherapy, and radiation, she has been in remission for nine years.
More than 300 Americans applied for the 23,085 feet Mount Acocnagua climb. Ultimately, seventeen breast cancer survivors between the ages of twenty-two and sixty-one from sixteen different states were selected to participate. The Aconcagua climb helped raise $2.3 million for breast cancer research.
Iris Lancaster, a breast cancer survivor who had a mastectomy in 1992, did not find out about the Aconcoqua climb until it was too late to sign up, but when Mount McKinley became a possibility, Iris was "on the horn, asking for an application." Iris decided to participate in the mountain climb after meeting the Breast Cancer Fund's Executive Director, Andrea Martin, at a speaking engagement. "I was so excited to meet someone who spoke the insanity I was feeling: that breast cancer was not getting the funding it needed and that the 'slash, cut, and burn' status quo treatment was not acceptable," Iris told Imaginis.net." In addition to mountain climbing, Iris has her private pilot certificate and is an avid skydiver. She is currently training to climb Japan's Mount Fuji next August. Iris and fellow McKinley climber Sandy Badillo are planning to return to McKinley next May.
Sandy was diagnosed with Stage III breast cancer at age forty-three and went through one year of chemotherapy. Though fighting breast cancer was a terrible ordeal for Sandy, she admits the disease has helped her look at life differently. "I took up sea kayaking and windsurfing. I continue to teach tennis with a full schedule and recently applied [to teach] in Hawaii next spring," said Sandy. In addition to teaching tennis, Sandy has decided to go back to school to get her Bachelor of Arts degree in Environmental Sciences.
Sandy has three children and five grandchildren. Next May, Sandy's youngest daughter, Vanessa, will join her on the Mount Fuji climb. "I am very excited to have her by my side in our fight against this epidemic." Sandy hopes the Mount Fuji climb will generate as much publicity as Mount McKinley.
Nancy Knoble, a breast cancer survivor who also participated in the Aconcagua climb, helped organize the McKinley climb. At 20,320 feet, Mount McKinley is the highest peak in North America. In addition to the breast cancer survivors, a group of young women from Princeton University also participated in the climb. One of the "Princeton women," Naomi Darling, told Imaginis.net, "The climbing itself was at times challenging and exhausting, and at other times, exhilarating and awe-inspiring. But what made the climb was the people-Nancy, Sandy, and Iris. These are women who have fought and in the case of Mary Ann, are still fighting breast cancer. Nancy and Sandy are close to my mom's age, and they climbed the mountain…with positive zest."
The McKinley team carried 1200 prayer flags on the climb and flew them at each campsite as they made their way up the mountain. The flags represented all women who have been diagnosed with breast cancer. Naomi summed up the McKinley experience by saying, "We climbed with a message about breast cancer and to give hope. I believe in this end, we are still climbing."
To learn more about the Mount McKinley climb and the Breast Cancer Fund, including how to make a donation, please visit http://www.breastcancerfund.org/climb.asp.
The ninety-minute documentary, ""Climb Against the Odds: A Story of Courage and Survival as Twelve Women Fight Breast Cancer at 20,000 Feet," may be ordered through the Breast Cancer Fund website at http://www.breastcancerfund.org/store.asp.
Please visit the PBS website ( http://www.pbs.org/) for information on encore presentations of the Mount McKinley documentary on your local PBS station.
The Climb Against the Odds videocassette and companion soundtrack CD (available from Time Warner Audio Books). The soundtrack features music from Celine Dion, K.D. Lang, Paula Cole, The Indigo Girls, Mary Chapin Carpenter, Nanci Griffith, Beth Nielsen Chapman, Laura Karpman, Adam Levy, Billy Meyers, Wayne Horvitz, Sweet Honey in the Rock, and more.

Click here for pricing and ordering information .
This article references information from the 1996 Salt Lake Tribune report, "Survivor Finds Strength To Tackle Mountains in Life," by Helen Forsberg. Visit the Salt Lake Tribune online at http://www.sltrib.com/