Breast Biopsy
A breast biopsy involves removing a sample of breast tissue to determine whether it is cancerous or benign (non-cancerous). While physical breast exam, mammography, ultrasound, and other breast imaging methods can help detect a breast abnormality, biopsy followed by pathological (microscopic) analysis is the only definitive way to determine if cancer is present.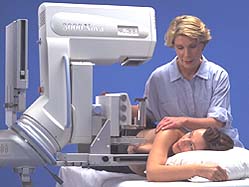 Image courtesy of Siemens Medical
Once a sample of breast tissue has been removed by the radiologist or surgeon, it is sent to the laboratory for microscopic examination by a pathologist. A clinical pathologist is a special physician who performs laboratory analyses of tissues to determine their type. Click here to learn more about the breast pathology report.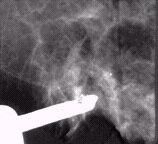 This mammogram image is used for breast biopsy guidance and shows that the suction assisted biopsy probe (Biopsys Mammotome) is positioned in the breast and aligned with calcifications (white specks above need opening)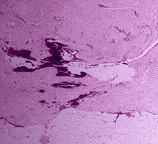 This pathology image of a breast biopsy specimen shows Hyalinized Calcified Fibroadenoma (courtesy Biopsys)