Benefits and Risks of Breast Biopsy
Risks of percutaneous breast biopsies include:
Bruising (scarring is usually minimal)
Infection
Hematoma: pooling of blood trapped inside the biopsy area

In general, risks are small and even when one or more of these complications do occur, they usually resolve within a brief period of time with the proper medical attention.
Open surgical breast biopsy carries some additional risks:
Typically requires sutures (stitches) and may leave a scar, depending on the size of the excision
May change the shape or appearance of the breast depending on the size and location of the lesion (breast abnormality)
As with all procedures that involve sedation and/or anesthesia, there is a very small but measurable risk of mortality (due to risks of anesthesia)
A greater chance of bleeding, infection, or wound healing problems compared with less invasive needle biopsy procedures
A possibility, albeit rare, that the wire used to guide the needle to the lesion may break deep within the breast in the case of wire-localized excisional biopsy
Usually requires at least one day of recuperation at home

The side effects of breast biopsy will vary depending on the patient. Patients are encouraged to discuss the risks of breast biopsy before undergoing the procedure.
Though not common, it is possible for a biopsy to reveal a false-positive (i.e., indicates cancer when it is really not present) or false-negative (i.e., misses a cancer when it really is present) result. False-positive and false-negative results may be caused by the following: technical problems with the biopsy equipment, not sampling the correct tissue area, the method of biopsy performed was not suitable for the lesion(s) present. The latter may not be known until after the biopsy is performed and may indicate the need for additional testing or a different method of biopsy if there is a question about the result.
False-Positive/False-Negative Breast Biopsy Results May Be Caused By:
Technical problems with the biopsy equipment
The biopsy did not sample the correct tissue area
The method of biopsy performed was not suitable for the lesion(s) present
For example, if a fine needle aspiration (FNA) biopsy was performed, it may reveal only have picked up cells that reveal a benign (non-cancerous) condition, even though a suspicious palpable (felt) lump is present.
If the radiologist or surgeon is still concerned, the results of the FNA may be discounted and the FNA may be repeated with an attempt to sample additional areas of the mass. Or, another type of biopsy such as core needle or open surgery biopsy may be recommended. At times, if there is a relatively low level or suspicion, the patient may be closely monitored with follow up exams and imaging studies to determine whether the appearance or behavior of a mass changes with time.
Summary of Breast Biopsy Methods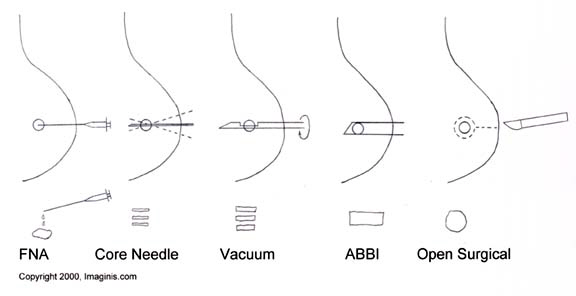 Summary of Breast Biopsy Methods

Type
Used For
Needle Sample size
Anesthesia
Pros
Cons
Fine Needle Aspiration (FNA)
Cysts; sometimes also used to sample cells from masses with or without calcifications
22 or 25 gauge needle; several (5-6) samples of fluids and/or cells are removed
Local or none
Fastest and easiest method; results rapidly available; no stitches or scar; excellent for cysts
Small sample size may cause incomplete assessment or misdiagnosis; multiple needle insertions; operator dependent
Core Needle
Sample tissue from solid mass or calcium deposits
10, 11, or 14 gauge needle; several (5-6) samples are removed
Local
Larger sample than FNA can lead to more accurate diagnosis; no stitches or internal scar
Multiple needle insertions; limited sample size may underestimate more serious diagnosis
Vacuum-Assisted (Mammotome or MIBB)
Primarily used for calcifications
11 or 14 gauge needle. Requires 0.25 inch incision (approx. 0.6 cm); several (8-10) samples are removed
Local
Excellent for calcium deposits; removes several large samples with one needle insertion; no stitches; minimal scar
May be less accurate than surgical biopsy which removes entire lesion; not ideal for hard-to-reach lesions (i.e., near chest wall); operator dependent
Large Core Surgical (ABBI)
Primarily used for nonpalpable (unable to feel) masses and/or calcifications
5mm-20mm cylinder of breast tissue is removed (approx. size and shape of wine cork)
Local
Provides large sample without heavy sedation (as with surgical biopsy)
Removes large amount of normal tissue before reaching lesion, may not remove adequate margin of tissue around lesion; requires stitches; scar
Open Surgical
Masses, hard-to-reach lesions, (i.e. near chest wall) multiple lesions; masses with micro-calcifications
Requires 1.5 to 2 inch incision (approx. 4.0 to 5.0 cm); golf ball size area of tissue or more is removed
Heavy sedation; sometimes general anesthesia
Yields largest tissue sample; most accurate method of diagnosis (near 100%)
Causes permanent scar that may make future mammograms difficult to read; possible breast disfigurement; requires stitches and longer recovery